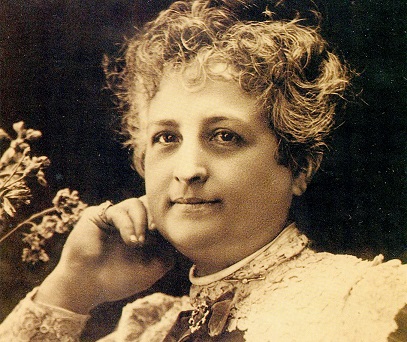 Teresa Carreño
Teresa Carreño (Caracas 1853- New York 1917), a star of the piano and in life, came from a distinguished Venezuelan family, proudly connected to Simon Bolivar. She was showered with praise from music critics and won the admiration of the greatest musicians of the time, including Rossini, Liszt, Grieg, Gounod and Rubinstein. Carreño was born in Caracas, Venezuela on December 22, 1853, was considered the best pianist of her time and lived most of her life in Europe and United States. Her virtuoso piano technique and strength earned her the titles, both "The Empress of the Keyboard" and "The Walküre of the Keyboard." She held control over romantic pianism for nearly 40 years and her life was peppered with great triumphs and tragic setbacks. Hans von Bulow called her "The most interesting pianist of the present."
Harold Schonberg wrote: "The cyclonic Carreño had overpowering personality, overpowering talent, overpowering physical strength, and overpowering technique. And on top of that, she was one of the most beautiful women of her time, in an Amazonian sort of way." When she was eight years old she was taken to New York to study with Gottschalk and made her New York debut in 1862 at the age of 9 at the Irving Hall. She played for President Lincoln and his family in 1863; she also studied in Paris with Mathias and Anton Rubinstein where she impressed Rossini and Liszt (Patti and Rossini wanted to make a singer out of her). When Liszt offered her lessons, for unknown reasons she refused to follow him to Rome when she was thirteen. She dared to compose in an era that was outwardly intolerant of women composers. She spent two years in Venezuela organizing and conducting an opera company. If singers were not available or became ill, Carreño went on stage and sang. If conductors did not show up or walked out, Carreño conducted. Teresa Carreño's temper triggers her staggering virtuosity in her music and her private life that was as tempestuous as her playing. Her lifestyle that included no less than four husbands (the third being the esteemed Scottish-born pianist Eugen d'Albert and the fourth, the brother of her second husband, Arturo Tagliapietra) it created something of a scandal all over Europe.
Her career was particularly successful in Germany where she lived and taught for over thirty years. Throughout her life Carreño was recognized as a pianist, composer, conductor, and singer. She wrote many compositions for piano and one String Quartet in B minor. One of her earliest compositions was also written at the age of eight and was dedicated to her mentor Louis Moreau Gottschalk. She composed up to 70 works for the piano most of which were written and published in Paris when she was only a teenager. Carreño used to include some of them in her own concert programs or as encores, especially Mi Teresita Waltz –dedicated to her daughter-. This piece was published a great number of times in Europe and in the USA. She was the cherished mentor of several outstanding talents including Edward MacDowell. In her later years, she was the queen of pianists and considered the equal of any male or female. Unfortunately, there are no recordings from Carreño, she made some piano rolls, but they give no idea of what she must have been capable of.
La Corbeille de Fleurs Op.9; the Ballade Op.15; the Mazurka de Salon Op.30 and Le Printemps Op.35 are examples of the great Romantic tradition where the highly virtuosic effects mix with deep poetic lines. Then, there are more evocative and intimate pieces linked to different moments of her life such as the two elegies, Partie and Plainte, which she composed on the death of her mother when Teresa was fourteen years old; the tender Lullaby dedicated to her father and first teacher, Manuel Antonio Carreño. The reflective Un rêve en mer and a peaceful Barcarolle (Venise) contrast sharply with of a more joyful character of pieces such as Un bal en rêve -which presents a narrative thread that includes a Venezuelan Merengue in its middle section- and the concert studies Une revue à Prague, La Fausse Note and the Intermezzo.
Her last piano work, the Vals Gayo, composed in Sydney in 1910, is a more complex piece in terms of its harmonic texture and seems to draw from the French Impressionism. Carreño died in New York on June 12, 1917, and her ashes were sent to Caracas, Venezuela in 1938. Also in Caracas was held the "Teresa Carreño" Latin-American Piano Competition and in the same city is located the largest cultural complex of South America bearing her name.